Wastewater treatment Mixers - Industrial Agitators
Customized mixer solutions for your needs
Proper polymer wetting or dispersion is critical to disperse the polymer into the dilution water effectively. At this step in your polymer preparation process, high shear mixing energy is required.
From dry polymers to liquid emulsion polymers, Dynamix has a full line of industrial polymer mixers for each stage of your process.
pH control is critical to the downstream coagulation, flocculation and even sludge formation. That is why proper mixing at this stage is so important.
The rate of pH change in your neutralization tanks depends on chemical reaction times which are linked to mixing times. Sufficient mixing is required to avoid excessive cycling, as well as chemical wastage. For pH balance and quality control, our mixers provide the correct levels of turbulence within the buffer capacity time.
The coagulation and flocculation processes help separate solid particles from water. Without optimizing these processes, mixing may result in excessive use of polymers and energy.

For coagulation, rapid mixing within the optimal detention time promotes better floc bonding. For flocculation, gentle mixing is needed to avoid fragile floc deterioration.
Dynamix can optimize these processes with mixer design. Generally speaking we offer high-RPM, high-shear mixers for coagulation and low-RPM, low-shear mixers for flocculation stages in your process, but there is much more to optimization than this. Contact us to find out more and how we can help optimize your process.
Wastewater Treatment Mixers
WATER TREATMENT IS A COMPLEX SEQUENCE OF PROCESSES AND REACTIONS.
Each stage of the wastewater process is dependent on the previous. This interdependency is critical to our approach to designing mixers for you. The quality and control of the overall wastewater process depends on it. We have decades of experience designing mixers for wastewater treatment. As a result, our mixers are designed for the intricate needs of your wastewater treatment processes.  
In many wastewater treatment processes, you require precise mixing control at every stage, from rapid flash mixing to polymer addition. While some chemicals simply need to be dissolved, others—such as lime slurries—require special attention to the solids, mass transfer and reactions in the neutralization stage in your process.
Examples of where new processes and old processes need a controlled mixing approach are both the Moving Bed Bio-Reactor (MBBR), aerobic and anaerobic processes. Our expertise in mixing allows these processes to benefit from the energy efficiency of top entry mixers. Submersible mixers, air mixers and other methods are not as efficient, and should not be used if a top entry mixer can be used. At Dynamix, we can do this, while others can't. Top entry mixers are not common place in these areas, often because other mixer manufacturers do not control their mixing, however, proper Industrial mixer design, will help you control mixing in these areas, and offer substantial savings over more common air flotation, or submersible mixers.
 DYNAMIX SOLUTION:
A strong understanding of your water and wastewater treatment requirements helps us provide the industrial mixers you need. Our high-pumping, high-torque
industrial mixers
can be configured to support your unique requirements, i.e., the intricacies of G-value specifications to tank and baffle geometries.
Request a quote
to begin a discussion with our application engineer, or request a quick quote for your wastewater mixer needs.
Custom Configured Mixers for Wastewater Treatment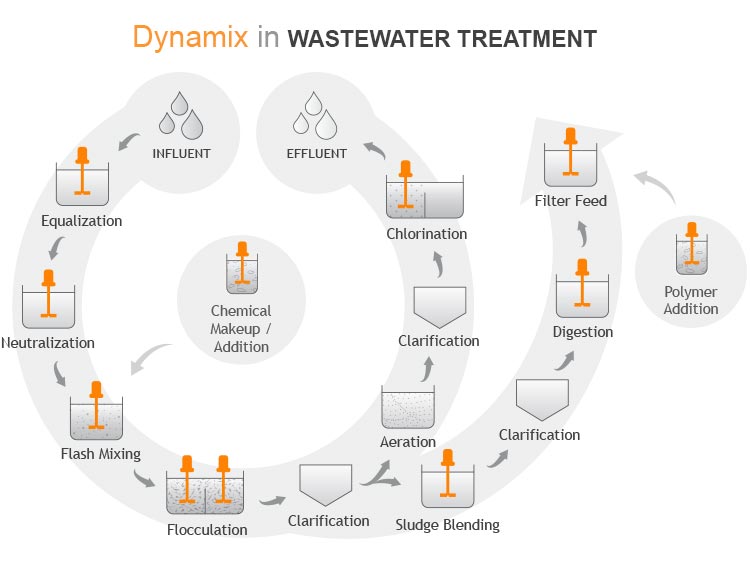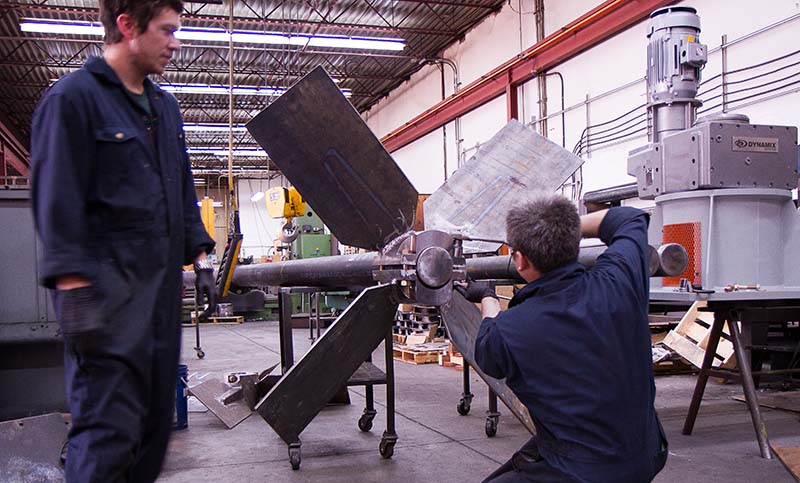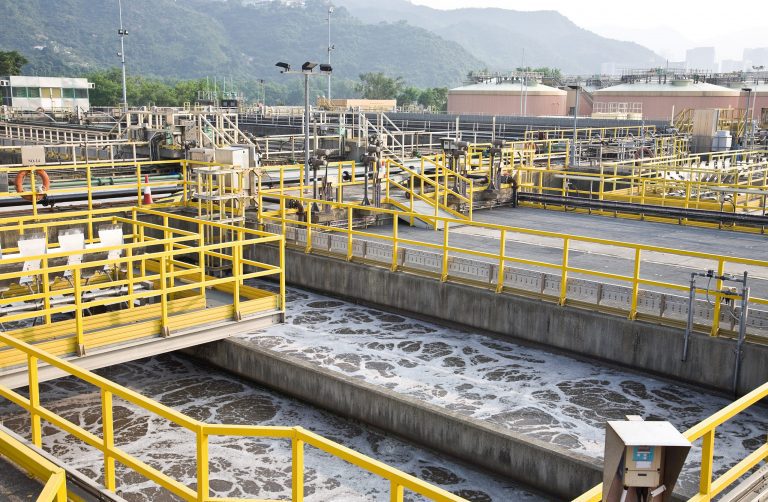 Wastewater Treatment & MBBR (Moving Bed Bio-Reactor)
Dynamix configures mixers for aerobic and anoxic MBBR reactor zones. We offer various shaft lengths to fit tank basin depths and durable high-torque, low-speed motors and gear reducers with VFDs. Impeller design determines directional flow and level of pumping needed within a tank basin. Our stainless steel MBBR impeller produces more conventional media movement and biofilm floc than air diffusers at a lower energy cost.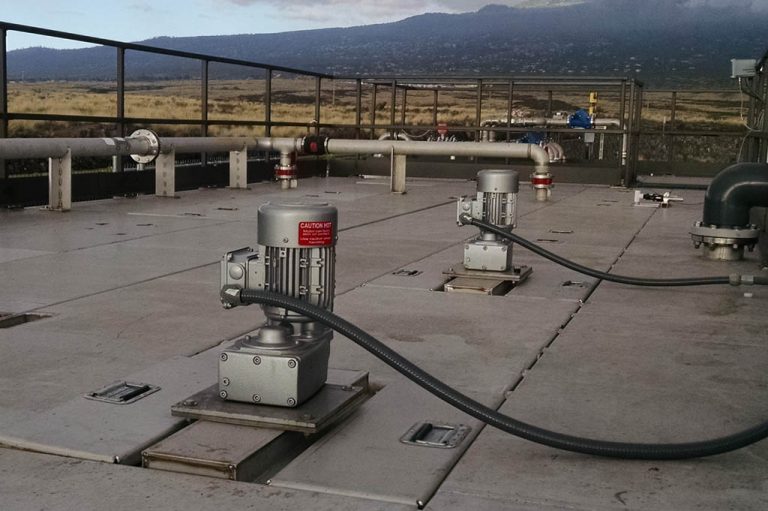 Sludge Blending In Wastewater Treatment
Another area where the wastewater industry is missing the efficiencies of top entry mixers is sludge blending. Many mixer manufacturers have not controlled their mixing well enough and sludge applications have lost control.

Sludge collected from primary and secondary clarifiers is treated and dewatered through a series of steps, including: anaerobic sludge tanks, sludge holding tank, centrifuge and belt filter press. This process requires agitation to ensure a homogeneous mixture is obtained. Sludge tanks need mixers to maintain uniformity and keep solids from settling while blending in chemical additives for more efficient dewatering.

At Dynamix, we will show you how we do this, and ensure you have a controlled mixing environment which will benefit from the efficiency and energy savings of a top entry mixer.
What our customers are saying:
I am a water plant superintendent and I use two chemicals that are mixed together (H.M.O.) which is injected into vertical filters to reduce natural radium that comes from ground water. The chemical has to be mixed 24 hrs a day. Prior to these mixers I had good reduction but after using Dynamix I have been getting non detects on my testing. Be prepared Dynamix put a lot of science into my processes which included sizing of tanks, viscosity of chemical, measuring of tanks, and many pictures to insure proper application was achieved. I have three mixers in process and I think it has been around four years when I started using Dynamix and my original mixers are still running perfectly when the other mixers would not last more than one month.
We bought 3 mixers from Dynamix in last 5 years. We are very happy with the quality of the products. Material of the mixers and technology on which these mixers are made is excellent. These mixers made our manufacturing job very easy. Excellent service. Best experience and I recommended several people to buy mixers from Dynamix.