Mixer Machines for
300 - 10,000 gallons
Customized mixer machine for your product or process
Looking for mixer machines for 300 to 10,000 Gallons - Mid-size mixer options?
You have arrived at our mixer lines typically applied as mixer machines for 300 – 10,000 Gallons. We have grouped these as mixer machines with their associated tanks below. If you have any uncertainty at this point, please feel free to simply submit your inquiry with the information you have, and we will contact you to help optimize your mixer selection.
Large Tank Mixers & Industrial Agitators
Firstly, medium to large tank mixers are what our company is known for. Hence, the GMX Series mixer machines are designed to handle all of your large tank mixing needs in an economical configuration, without sacrificing durability or efficiency.
GMX 8000 SERIES
High efficiency design configured for medium-duty applications.
Parallel shaft with high quality helical gears
Gears ground to AGMA 13 quality to provide long and quiet operation
Gear hardness – 58 Rockwell C minimum
Also available with low profile, right angle gearbox
Clamp & Pedestal Mounted Industrial Mixers
First of all, these heavy-duty but still portable mixer machines are designed to be portable and flexible enough to be applied to industrial tanks from 300 to 3,000 gallons for all of our industries. In addition, the DMX mixer is available as an electric motor mixer (single phase, 3 phase) or as a pneumatic motor mixer (air motor mixer).
Secondly, the DMX Series mixer machines, a line of portable utility mixers is our most widely applied line of medium tank mixers. In addition, this is a true portable utility/industrial mixer, which can be configured to suit your most challenging applications. Because, your investment in a mixer is largely defined by the duty or service factor of the unit. Hence, the DMX Series mixer not only offers some of the highest service factors, but also embodies them with a market leading gearbox.
Core to this line of mixer machines are the portable mixer line.
Plastic & Stainless Steel Tote Mixer
Finally, the Integrated Tote Mixer (ITM) line of mixer machines, and the innovations it embodies, is the result of years of designing mixers for unique tote applications.
Originally, the integrated tote mixer evolved as a result of a need for quality control in the supply of automotive paint and to address the unique demands and limitations of paint mixing in a stainless steel tote.
Consequently, these tote mixer machines are now available as an electric mixer motor, or air mixer motor.
Industries outside the paint market began to benefit from the quality control enabled by tote mixing with the Dynamix ITM design.
Dynamix offers a wide range of mixer machines for mixing in 300 to 10,000 gallon tanks. Whether you are looking for mixer machines for 10,000 gallons, 700 gallons or 300 gallons we have tank agitators that can suit your mixing vessel needs. For larger volume (10,000 gallons) industrial mixers, our GMX series offers industrial mixing options configured to your application needs. For vessels around 300 to 800 gallons, the ITM series and DMX series may meet your agitator mixing needs.
Medium Size mixer machines - 300 to 10,000 Gallons
THE BACKBONE OF OUR PROCESS INDUSTRY
Effective mixer machines for medium sized tanks require precise engineering and selection in order to balance power with efficiency. Dynamix offers a full range of mixing equipment, and selects its mixers according to fundamental engineering principles.
Our Solution Assurance is offered so that you can attain quality mixing. When applied the Solution Assurance can be used to set your process quality or flow rate. Several factors are taken into consideration in our initial communications. Hence, allowing us to select tank mixers that best addresses your environment, tank and most importantly, your product quality. 
The Dynamix engineers can configure mixer machines to address your application and process needs. Our mixers are designed to balance time, quality and uniformity to ensure product quality and optimized process time. Request a quote to start the discussion with our application experts, or to just get a quick price quote.
custom configured mixers machines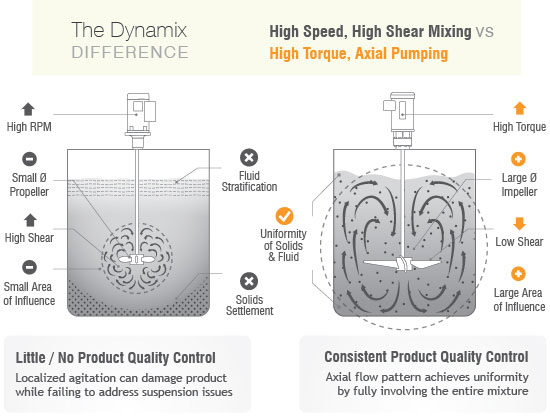 DMX Series Mixer Machines / Portable Mixer - Brief
The DMX Series line of mixers is our most widely applied line of mixer machines. Because of the diversity of industries and applications for this mixer class, the DMX benefits the most from our highly flexible engineering and configuration process. … Learn More
GMX Series Mixer Machines - Industrial Mixer - Brief
Large tank mixers are at the core of heavy industry, and are what Dynamix is renowned for. The GMX Series line of mixers is designed to handle all of your large tank mixing needs in an economical configuration, without sacrificing durability or efficiency. … Learn More
ITM Series Mixer Machines - Utility Mixer for Plastic IBC Totes - Brief
The ITM plastic tote mixer is part of a new class of tote mixers. This plastic tote mixer is made possible by several Dynamix innovations. Most noteworthy, our impeller technology, mixer mount, and dynamic coupling have enabled the plastic tote mixer to become a process vessel and key quality control tool. … Learn More
ITM Series Mixer Machines - Utility Mixer for Stainless Steel Totes - Brief
I am a water plant superintendent and I use two chemicals that are mixed together (H.M.O.) which is injected into vertical filters to reduce natural radium that comes from ground water. The chemical has to be mixed 24 hrs a day. Prior to these mixers I had good reduction but after using Dynamix I have been getting non detects on my testing. Be prepared Dynamix put a lot of science into my processes which included sizing of tanks, viscosity of chemical, measuring of tanks, and many pictures to insure proper application was achieved. I have three mixers in process and I think it has been around four years when I started using Dynamix and my original mixers are still running perfectly when the other mixers would not last more than one month.
Dynamix has some of the best account managers I have worked with. When a shipment ended up stuck in customs, Dynamix did everything to move it out and get it on its way to us, and communicated every step of the way. Very thankful!!!
Using information about our material, container, and purpose, Dynamix continually chooses a mount, drive, and impeller that are appropriate for the job with friendliness and ease, even after changes are made many times to our plans and purpose.