Ibc tote mixer &
plastic Tote Mixers
Customized ibc tote mixer solutions for your needs
IBC Tote Mixer for plastic totes
THE ITM TOTE MIXER WITH COLLAPSIBLE IMPELLERS
The ITM plastic tote mixer is part of a new class of IBC tote mixer.  This plastic tote mixer is made possible by several innovative designs by Dynamix. Our impeller technology, mixer mount, and dynamic coupling have enabled the plastic tote mixer to become a process vessel and key quality control tool.
The ITM plastic tote mixer is part of the evolution from stainless steel totes to plastic totes in many industries. These industries are realizing the benefits of mixing in IBC plastic totes, the natural evolution was to do this in economical plastic totes. Our experience with IBC tote mixers began with stainless steel tote mixers for the Automotive Industry. This unique focus and experience allowed us to develop the plastic tote mixer as a result of the demand for quality mixing in IBC plastic totes.
Whether you are using a rotationally molded plastic tote, or a blow molded plastic tote, the Dynamix tote mixer line can be selected and applied for your tote tanks and process. If you're looking for a 250 gallon tote mixer, 275 gallon tote mixer or 275 gallon tote mixer, Dynamix can help you.  We configure our mixers for pneumatic – air tote mixers or electric tote mixers.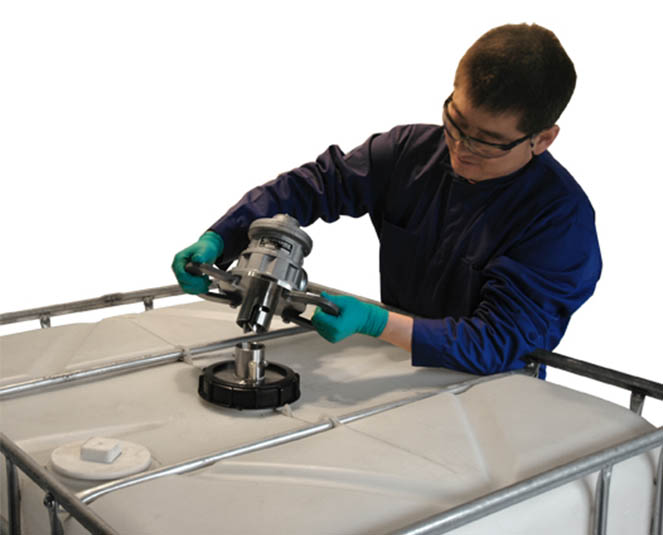 ITM - Integrated Tote Mixer
Impeller selection is the starting point of any mixer configuration. That is to say, starting with the right impeller means your portable mixer will work in balance and provide quality mixing. In addition, issues such as uniformity, area of influence, shear, solid suspension, and many others are addressed by the impeller selection.
CONFIGURATION OPTIONS
MOTORS HP RANGE – 1/4 TO 2 HP
Air, electric, variable speed, explosion-proof, and more
GEAR REDUCTION – DIRECT, 5:1, 10:1, 21:1

Low RPM mixing with substantial torque available
MOUNTING – Integrated Tote Mount "ITM", Bridge or Stainless Steel Drum Lid
Mounting suits all major brands of plastic totes
4-BLADED COLLAPSIBLE IMPELLERS
Available in Dynaflow, Pitch and Radial types to ensure quality mixing
ITM Series - mounting options and impeller options
DYNAMIC DRIVE COUPLING FOR IBC TOTE MIXER
The Integrated Tote Mixer design allows you to easily re-configure the unit by mixing and matching the drive and agitator (shaft) segments. As a result, you can use the same tote mixer drive across multiple totes or applications. Because the two components are designed to attach and detach without using tools or brackets, you can now assemble the tote mixer in seconds. Eliminate product cross-contamination cost-effectively by sharing the drive segment across between totes without sharing the agitator segments.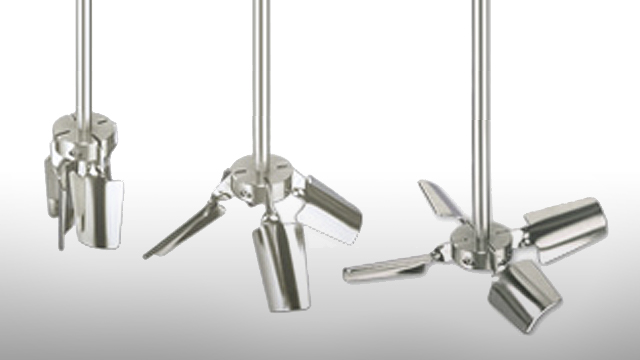 COLLAPSIBLE IMPELLERS FOR IBC TOTE MIXERS
Proper mixing in a tote has been considered impossible for many applications because high rpm mixers with small diameter impellers have been the only option. Dynamix has enabled controlled mixing by designing a four bladed collapsible impeller. Our 4-bladed collapsible impellers allow blades up to 20" in diameter to enter through the small openings of a tote. This applies the torque and pumping which is core to the Dynamix approach to controlled mixing and uniformity in all tanks, including tote tanks. This enables the controlled mixing environment you expect from larger mixers. Above all, the process manager will be able to achieve better product quality, mixer performance, and energy efficiency increases with a properly sized mixer.
I am a water plant superintendent and I use two chemicals that are mixed together (H.M.O.) which is injected into vertical filters to reduce natural radium that comes from ground water. The chemical has to be mixed 24 hrs a day. Prior to these mixers I had good reduction but after using Dynamix I have been getting non detects on my testing. Be prepared Dynamix put a lot of science into my processes which included sizing of tanks, viscosity of chemical, measuring of tanks, and many pictures to insure proper application was achieved. I have three mixers in process and I think it has been around four years when I started using Dynamix and my original mixers are still running perfectly when the other mixers would not last more than one month.
Dynamix has some of the best account managers I have worked with. When a shipment ended up stuck in customs, Dynamix did everything to move it out and get it on its way to us, and communicated every step of the way. Very thankful!!!
Using information about our material, container, and purpose, Dynamix continually chooses a mount, drive, and impeller that are appropriate for the job with friendliness and ease, even after changes are made many times to our plans and purpose.