Maximum Mount Flexibility
Dynamix's innovative "Universal Drum Mount" (UDM) makes the drum mixer both versatile and portable. Specially designed to mount on both, open head and closed-head drums, it can be used on multiple tank types in different areas of a plant, giving you unparalleled flexibility in a single drum mixer.
Clamp Mount
2″ NPT Bung Mount
Drum Lid Mount
Universal Drum Mount (UDM)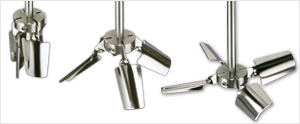 Big Tank Mixing in a Drum
Our 4-bladed collapsible impellers allow blades up to 8″ in diameter to enter through the small openings of a barrel or drum and create the controlled mixing environment you expect from larger mixers. Product quality, mixer performance, and energy efficiency increase with a properly sized impeller.
Pitch
Radial
Dynaflow ™ Airfoil
Fixed or Collapsible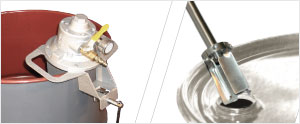 At Dynamix, we provide you with a solution, not just a mixer. The difference? We consider your product, process, and environment, and then size a mixer for maximum performance and efficiency. Our drum mixers can ensure the quality of your product, no matter the industry or application:
Paints & Coatings
Sealants & Adhesives
Inks & Dyes
Chemicals
Polymers
Polyurethane
And Many More…